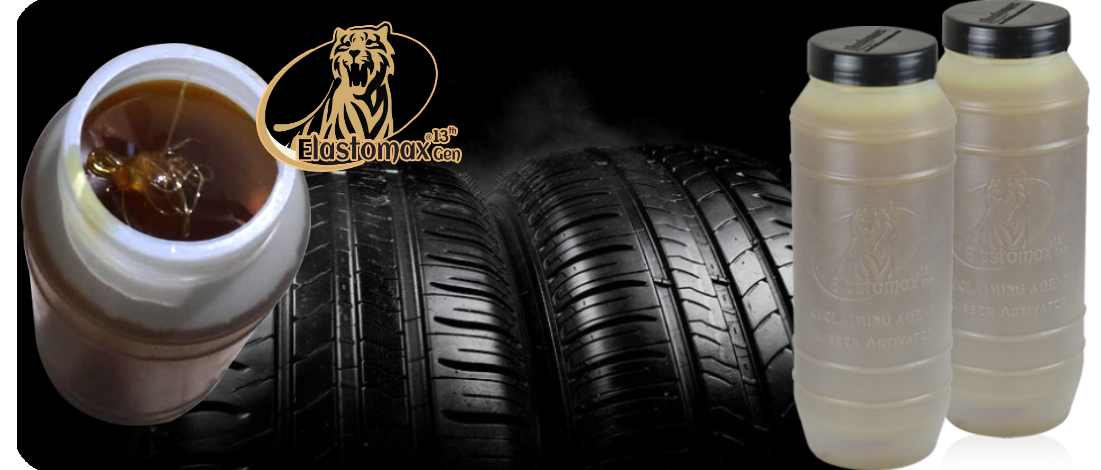 Elastomax 13th Generation Reclaiming Agent
The ELASTOMAX 13TH Generation Reclaiming Agent have advantage of dosage/odor and enjoy economical factor also. At high temperature crosslinking carbon and Sulphur bonds terminate rubber chain radical of rubber very fast. It also prevents further break down of the rubber macromolecular chains caused by auto catalytic degradation. It prevents the free radical re-combination to form double bond. It speeds up the Desulfurization process in reclaimed rubber. Also it improves plasticity, viscosity & liquid structure of the reclaimed rubber. Reduces power/energy cost for production of reclaimed rubber and increase production capacity. Improve physical strength of (Tensile strength) and other properties of the recycled rubber. Reclaiming agent is widely used in reclaim rubber industry.
Rubber Reclaiming Agent is necessary in DE-vulcanization of crumb rubber of rubber scrap without retaining its chemicals and physical properties. Rubber Reclaiming Agent used for braking the crossed linkage between sulfur elements & rubber elements on high temperature & pressure, resulting the high tensile and reduced the Mooney of Reclaimed Rubber produced for re-manufacturing of rubber products whether natural rubber or synthetic rubber can be reclaimed by using of Rubber Reclaiming Agent. It is specially made Chemical.
Form: Semi solid mass
Colour: Yellow brown sticky
Smell: Characteristic
Danger of Explosion: Not Explosive
Solubility/ Miscibility in Water: Not Miscible
Benefits Of Elastomax 13th Gen. Reclaiming Agent :
Odorless
Rubber Reclaiming Agent reduces the autoclave timing to a large extent that too at lower temperature & pressure.
Save power consumption
Saves fuel intake
Reduces process timing
Improves efficiency of the rubber reclaiming plant
Improves the quality of resultant Reclaim Rubber
Risk of hardening is reduces & further more benefits.
Environment Friendly
Delivery: With in 15 days, from the date of receipt of clear confirmed order.
Packing: 1kg bottle, 5kg bucket & 200 kg packing in Export Worthy MS barrel, fully sealed.

The offered product Elastomax 13th Generation Reclaim Agent is environment-friendly.

PACKING DETAILS:

The Product is packed in 1 kg bottle, 5kg bucket & 200 kgs barrel and as per customer requirement.
INDEX ELASTOMAX 13TH Gen Reclaiming Agent
| | |
| --- | --- |
| Odor : | Odourless |
| Appearance : | Yellow Brown Sticky |
| Combined Sulphur : | 13% - 14% |
| Free Sulphur : | 1.0 - 2.0 Max |
Features :
PAH : Not Detected
Stable Quality : Yes
Lower Dosage : 0.3% to 0.4%
Fast Devulcanization : Yes
Better Mechanical & Physical Properties : Yes, of Reclaim Rubber